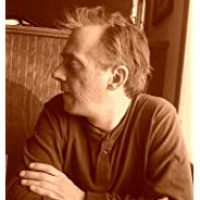 Mark Castleberry
Action & Adventure, Christian Fiction, Science Fiction, Fantasy, Teen & Young Adult
A storyteller writing stories of Science Fiction and Fantasy with Biblical influences. Writing a series like The World Of Strangers And Pilgrims lets me put out clean, adventurous stories for teens and young adults. I also enjoy running The Strangers and Pilgrims Podcast, for those that enjoy old time radio shows and audio dramas. I currently live in Missouri with my wife and two cats.

You can find the Strangers and Pilgrims Podcast on your favorite Podcast Provider.
These all died in faith, not having received the promises, but having seen them afar off, and were persuaded of them, and embraced them, and confessed that they were strangers and pilgrims on the earth.
- Hebrews 11:13 KJV
Like a lot of great science fiction, this book is an allegory for the world around us and wastes no time in exploring the subjects of faith and religious persecution. Mark Castleberry's writing will quickly resonate with a great many readers, shining a light on the experience of having to flee for your life because your faith offends the regime in which you live.
K.C. Finn for Readers' Favorite